INTEGRATED LEARNING
-CHANGING THE FUTURE OF LEARNING
Integrated learning is fast becoming an essential tool used in schools to enhance student's personal and interpersonal growth and development. But for integrated learning to be effective, it needs to be a part of an integrated curriculum. But, before that, we need to know….
What do we mean by this?
 Is there an example of how schools can do this?
What is Integrated Learning?
Integrated learning is described as one that connects different areas of learning by cutting across subject-matter lines and emphasizing unifying concepts.It focuses on making connections for students, allowing them to engage in relevant, meaningful activities that can be connected to real life. Integrated learning aims to connect the theory learned in the classroom, with practical, real-life knowledge and experiences. The practical aspect of experiential learning facilitates integrated learning eventually giving learners an interesting journey of education.
There has been detailed research done on integrated learning and its effect on learning and teaching space. From this study, precisely three paradigms of integrated learning were identified, all three of them have overlapping elements. These include:
Multidisciplinary Integrated
This approach focuses primarily on the disciplines. It relates different subjects around a common theme. The role of the teachers is to fuse skills, knowledge, or even attitudes into the regular school curriculum. For example, in some schools, students learn about conserving the environment in every subject area.
Interdisciplinary Integration
Here the approach is to cut through different disciplines, teachers organize the syllabi around common learnings across disciplines. They accumulate the common learnings and enfold them in the disciplines to emphasize interdisciplinary skills and concepts.
Transdisciplinary Integration
The transdisciplinary approach is related to student's development of life, teachers organize the curriculum around student questions and concerns. Students develop life skills as they apply interdisciplinary and disciplinary skills in a real-life.
How do you implement an integrated curriculum in your school?
The advantage of integrated learning in the teaching and learning process are uncountable. For it to be effective, the curriculum does need to be thought out and developed.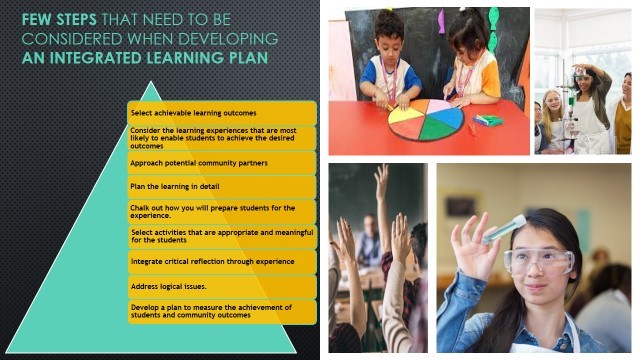 By creating an this curriculum, teachers may change the teaching and learning experience for both the teacher and the learner. This allows students to have a deeper understanding of the course subject matter and apply the material that they have learned in the classroom in a real-world situation.This ultimately helps prepare them for their future studies, career and life in general.