21ST CENTURY TEACHING SKILLS- DIVERGENT APPROACHES TO TEACHING
With the dawn of the 21st century, the whole world has witnessed an era of vehement metamorphosis in all areas, like education, global trade and economy, technology or society. Recently, COVID-19
pandemic has also hurled challenges for an individual to cope with its ramifications.
Needless to say, an overall distinct skill–set is required for an individual to cope-up and succeed in facing the challenges in real-life, leading to his holistic development. These skills are addressed as 21st Century Skills/ Learning Skills/ Transversal Competencies etc.
Thus, the 21st Century Skills are the skills that are required by an individual; for his/her holistic development so that one can contribute to the global progression.
BACKGROUND OF THE EVOLUTION OF 21ST CENTURY SKILLS:
Since the genesis of life on earth, understanding of the skills to survive and life began. Survival of the fittest itself tells us the importance of Life Skills. Over the last twenty-five years, several institutions and international organizations have proposed frameworks; that outlined competencies needed to address 21st-century challenges.
Following are the developments across the years after much contemplation on the needs of 21st Century Skills: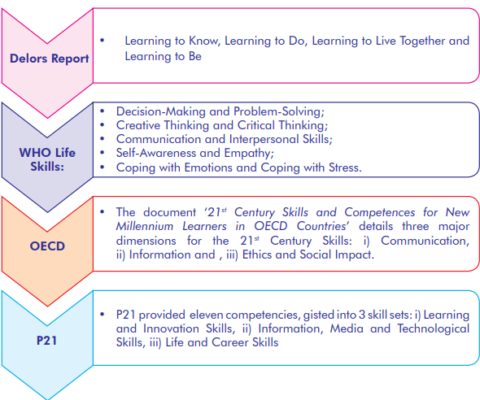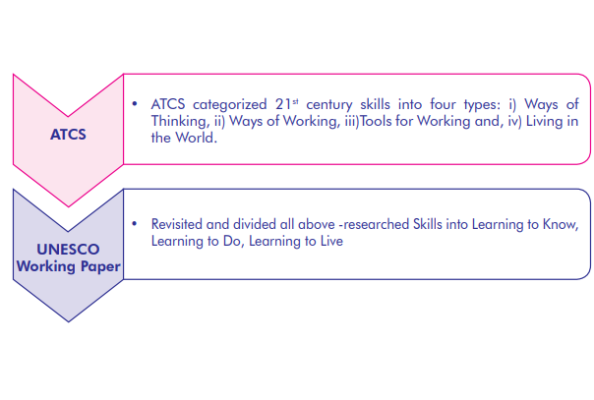 COMPONENTS OF 21ST CENTURY SKILLS
On the basis of the above discussion, we conclude that 21st century skills can be summarized into the following categories: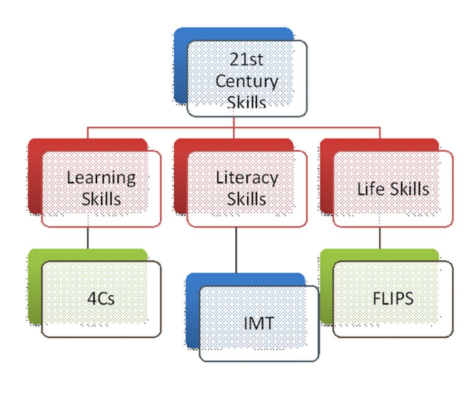 4Cs: Critical Thinking, Creativity & Innovation, Collaboration, Communication
IMT: Information Literacy, Media Literacy, Technology Literacy
FLIPS: Flexibility and Adaptability, Leadership and Responsibility, Initiative and
Self-Direction, Social and Cross-Cultural Interaction
WHY ARE 21ST CENTURY SKILLS NECESSARY?
Enable Students to be Good Citizens: Learning is not conclusive and holistic; until a student is able to effectively perform and fulfil his/her responsibilities and duties towards self, school, family, society and above all, the nation.
21st Century Skills Are Key To The Empowerment Of Children: Simply teaching for assessments or making them prepared for exams is not going to help a student cope up with everyday life situations. Children and adolescents to deal with
the issues and concerns related to their life. They experience a number of feelings, many of which are related to their growth and development from childhood to adolescence and beyond.
Need for Specially abled Children: These are important for Children with Special Needs for developing their independence in their home, school, and community environments.
"In today's modern world, due to rapid economic and social development, schools and teachers have the responsibility to prepare students for employment that have not yet been created; technologies that have not yet been invented and problems that we don't yet know will arise.
Therefore, 21st Century Skills are of utmost importance not only to the learners; but also to the teachers and schools being at the foundation of moulding a learner must consider these skills to be inculcated along with the day to day academic pedagogy.